Fast and accurate optical wood quality control thanks to artificial intelligence
Each piece of wood is unique, which poses a challenge for optical quality control. This is because there is no universal reference sample for comparison with the products being inspected. However, with the use of artificial intelligence, the many combinations of shades and variations can be handled efficiently. The combination of AI with high-end industrial cameras can detect even the smallest defects that the human eye would otherwise easily miss. And in a fraction of a second.
Human Controller Limits
Standard visual quality control in the timber industry depends on human inspectors. But they have their limits. These are mainly related to limited speed, inconsistent results and the possibility of overlooking defects. This can negatively affect downstream production processes.
Optical wood quality inspection equipment is essential in operations where thousands of products or components need to be inspected and graded in a single shift. However, this technology is also beneficial for smaller companies that can significantly increase production quality through automation, achieve more accurate quality grading and thus save money in the long run.
Examples of optical wood quality control applications
An optical wood quality control system is invaluable if wood serves as an input material for your production. One of our clients, for example, uses the WoodenAI Opti control system solution to measure wood slats, which are then used to make folding meters.
Optical inspection using industrial cameras is also often used in plants specialising in the production of wooden floating floors. The material is graded according to many criteria. Wood that meets the aesthetic requirements and has minimal defects is used for the production of premium floors. On the other hand, lower quality boards can be used for the production of mosaic parquet.
Industrial camera systems are also useful for inspecting wood products for direct sale. Inspecting material for further processing, such as construction lumber, patio boards, or wood for joinery, can significantly improve the quality of your product offering. For home accessories, wooden toys or musical instruments, inspecting them can reduce the risk of complaints.
Artificial Intelligence can handle infinite combinations
Wood optical inspection systems need to handle the colorful variability of material and the variety of defects. At KINALI, we therefore use artificial intelligence and cutting-edge detection algorithms that are developed in line with the latest trends in the industry. This technology helps us to detect even the smallest defects, despite the irregular structure of the wood. Our solutions are characterized by a fast learning process, which means that the inspection of products or materials requires only a short "learning" period and is subsequently very fast and accurate. When inspecting wood, our systems can reliably detect over 20 different types of defects while processing up to 140 images per second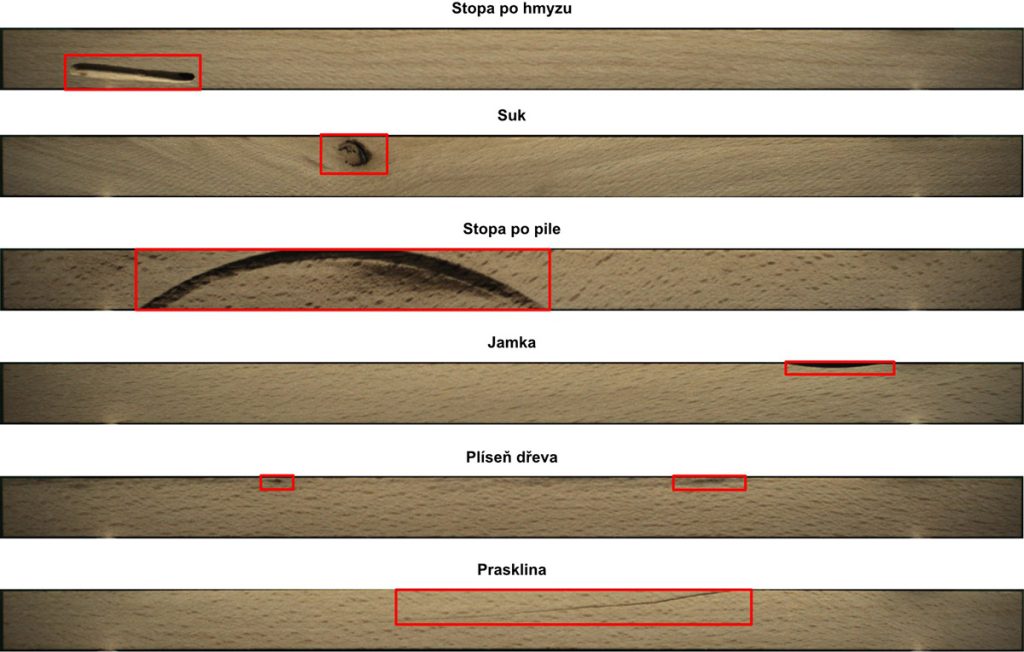 Automatic inspection reveals dimensional deviations and defects
Specialized optical inspection machines can be used not only to detect defects and deviations, but also to verify parameters such as dimensions.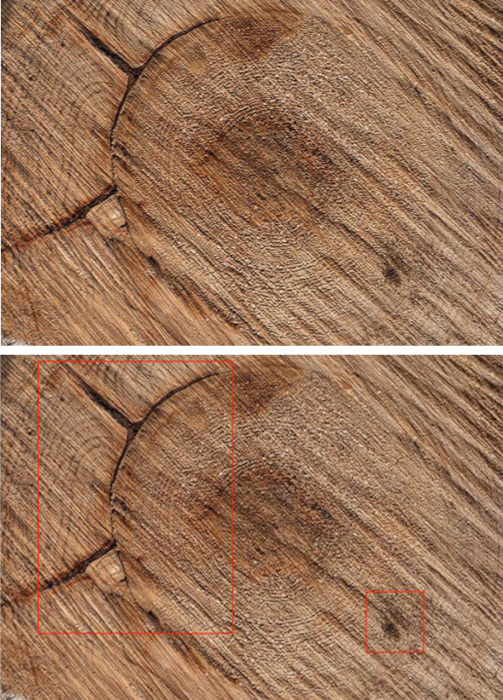 Detection of wood defects
Defects in wood materials can be natural or caused by improper handling or external influences. However, these defects negatively affect both the aesthetics and the functional properties of the material. It is therefore important to detect defects and to classify materials based on the nature and extent of the damage or defect. For example, optical quality control using industrial cameras can detect the following defects:
poorly machined wood - rough surface, insufficient sanding;
broken corners - the material is still usable, but its dimensions need to be adjusted;
cracks and cracks - negatively affect the strength of the material;
saw burns - aesthetic defect;
knots - cause lower strength and reduce the possibility of final surface finish;
fouling, discolouration, mould, rot, holes - defects caused by insects or fungi;
unnatural colour shade of the material.
The specific requirements of the timber industry include, for example, the ability to find and remove knots from a larger piece of material. Wood containing knots is not suitable for the manufacture of many types of products. It is therefore advantageous to use an application that can detect knots and optimize the placement of individual products on the input material to avoid areas of knots while maximizing material utilization.
Dimensional measurement
The optical inspection system can also be effectively used for dimensional measurement and detection of shape deviations from a set standard. Our WoodenAI Opti control system is capable of measuring the width, height and thickness of wood at high speed, across the entire product range. It can also detect surface and edge deflections. These can be caused, for example, by inadequate storage. Measurements are taken to the hundredths of a millimetre.
Specialized machine can test hundreds of pieces per minute
Wood processing plants are often places where thousands of pieces of material are processed in a single day. If you had to visually inspect the entire production, you would have to employ a large team of human inspectors. But a specialised quality control machine can handle this process on its own, with exceptional efficiency.
Our solution WoodenAI Opti control system is able, for example, to examine slats from all sides at speeds of up to 700 pieces per minute. In doing so, it provides consistent results and is able to detect even the smallest defects. These are characteristics that simply exceed the capabilities of any human inspector.
Automate sorting and removal of defective production
At KINALI, we are able to design a robotic workstation optimized for optical wood inspection that also handles product handling. Based on set parameters, the machine then sorts products or material into acceptable and unacceptable pieces. Those with deviations or defects can be sorted into different groups based on set criteria - for example, one group consists of pieces with cracks and knots, another group of pieces with unacceptable deflection, and so on.
Artificial intelligence can be applied to the optical quality control of virtually any product. Our camera systems excel at testing wood, which is particularly challenging due to the uniqueness of each piece. This makes inspecting products made of metal, plastic and other materials really easy for us. If you work with wood in your production, please do not hesitate to contact us. We can also implement a fast and precise system using industrial cameras in your operation.