Collaborative robots
Universal and flexible hard worker that works 24/7. It interacts safely with human colleagues and makes no mistakes at work.
A collaborative robot, the so-called cobot, can work perfectly safely and trouble-free in the same area with its human colleagues.
High and the same accuracy is the daily bread for cobots. They do not mind routine activities at all, they work 24/7 and easily adapt to existing production. When needed, it adapts flexibly to new requirements.
By involving collaborative robots, each company will significantly increase its efficiency.
Automation and robotisation of operations does not only mean better use of human potential. Cobots will bring with them zero error rate in monotonous actions, reliability in planning long-term projects and a significant reduction in total wage costs.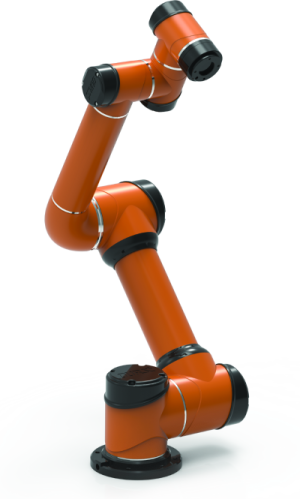 Collaborative AUBO robot - a real partner in production
Our collaborative AUBO robots will easily learn every job. You can control them via an intuitive and user-friendly interface, or manually. Simply grab them by the robotic arm and lead them through the desired route of movement.
Our collaborative robots can work with various tools, control large machines, sort material and control its quality. Thanks to six joints and axes of movement, AUBO is a very skilled and agile helper. Big AUBO cobots are suitable for hard work, smaller ones for fine work, but they have one thing in common – you can rely on them in all circumstances. They are your orange partners in production.
PRODUCTION AUTOMATION ENABLES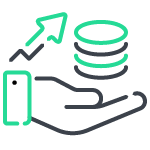 Financial savings
Have you calculated how much you spend on complaints per year? From now on, you can throw all your worries away.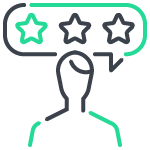 Customer reputation
Your customers will always speak well of you.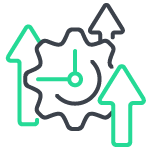 Higher production
Production pace will no longer be slowing down the speed of your production.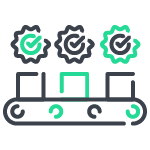 Defect-free production
Your production will be 100% free of defects. Forever.
Production automation will decide your company's success in the coming years
Industrial production robotisation and automation is becoming more and more intensive from year to year. The advent of Industry 4.0 is not a question for the future but is happening right now. The result of innovation is greater flexibility and speed, thanks to which a modern society can respond to any demands of the global market. A small or medium-sized company that can produce and deliver quickly can compete with large but slow groups.
With reliable collaborative robots that ensure smooth production, you will gain a reputation and become more trustworthy for your business partners.
More efficient use of human power in the next decade will be a decisive factor in the success of manufacturing companies. Leave the hard work to robots, measurement or quality control to cameras and artificial intelligence to take care of data and production processes. Automation will ensure higher efficiency and associated profits.
DOWNLOAD COLLABORATIVE ROBOT BROCHURES
AUBO i20 prospekt (CZ)