The Zhafir injection moulding machine operation at Linet
Automation of the injection moulding machine operation for the production of plastic parts in Linet was to completely replace manpower. Automation was mainly approached due to the production of raw mouldings, which cannot arbitrarily fall into the output boxes.
Directly removing mouldings from the ejector manually slows down the production cycle considerably. The robotic solution offers an increase in production efficiency by more than 20%.
In the project, we deployed our AUBO MoMRO (Moulding machine robotic operator) comprehensive solution. The AUBO collaborative robot is equipped with the unique OnRobot VGC10 tool, enabling an easy and just a moment-long adaptor replacement for the manipulated part. Therefore, changing the production on an injection moulding machine is a piece of cake. The collaborative robot places the collected mouldings directly in the KLT packages.
The solution also considers the need for occasional manual operation of the press. The robot can be moved outside the working space of the press and therefore making enough space for a human operator.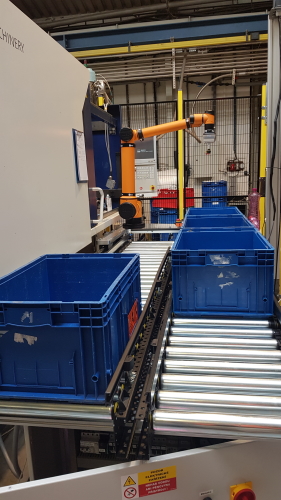 Technical Parameters
Robot

Collaborative robot AUBO i10
End tool

quick adapter replacement as required for the given moulding
integrated pump - no need to supply external air to the device

Mouldings collection method

Interroll automated conveyor system for KLT boxes

2 loading positions for paired parts
implemented input and output buffer

Workplace control method
Tailor-made software reflecting the operator's needs - easy programme change via bar codes