CNC operation at Mercut
Mercut is one of our customers who completely managed the integration without our help and without any previous robotisation experience. They didn't even find it important to go through our introductory training, which is always totally free. We applaud them.
There's probably really nothing difficult about it. You can make the AUBO collaborative robot learn to operate a CNC machine easily - you can programme it through an intuitive interface, or guide its hand manually along the required track. The robot then repeats the prescribed activities without the slightest mistake for any time period.
So, exactly how does it look in Mercut? The semi-finished product for the CNC machine in Mercut is transported using an automated feeder, which feeds parts from the previous production operation. The collaborative robot AUBO i5 then takes care of loading the semi-finished product into the lathe for surface treatment. The result is piled into a prepared nut. The operator can approach the lathe only when the nut is full to replace it with an empty one. This is a diametric difference from the previous situation with continuous manual operation.
Even with relatively easy automation, you can also increase productivity and get one step closer to the Industry 4.0 principles.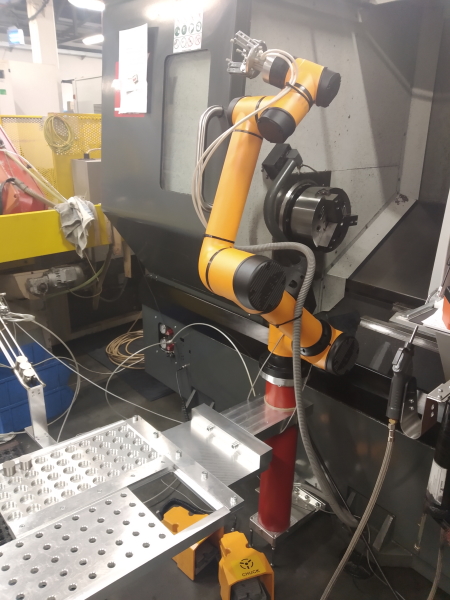 Technical Parameters
| | |
| --- | --- |
| Robot | Collaborative robot AUBO i5 |
| End tool | Tailor-made end tool created by the customer |
| Method of feeding the semi-finished product to the inlet | Automated feeder with pick-up position |
| Method of removing products at the outlet | Piling into a prepared nut |
| Workplace control method | AUBO control panel |