CNC operation at Černík - Parýzek
In the case of Černík - Parýzek, all integrations were performed by the customer.
There was really nothing difficult about it. You can make the AUBO collaborative robot learn to operate a CNC machine easily - you can programme it through an intuitive interface, or guide its hand manually along the required track. The robot then repeats the prescribed activities without the slightest mistake for any time period.
The Černík - Parýzek CNC machine was equipped with special Koran pneumatic chucks. For clamping workpieces, it was sufficient to equip the AUBO collaborative robot with pneumatic hoses with air supply. The chuck then responds to a short pulse of compressed air to clamp and release the workpiece. It simply gets over an appropriate valve and that's it. Integrating a robotic system to a CNC machine really is a piece of cake. No electrical inputs and outputs programming, no complicated compressed air supply into the CNC machine. Nothing else is really needed.
Thanks to relatively easy automation, you can increase productivity and get one step closer to the Industry 4.0 principles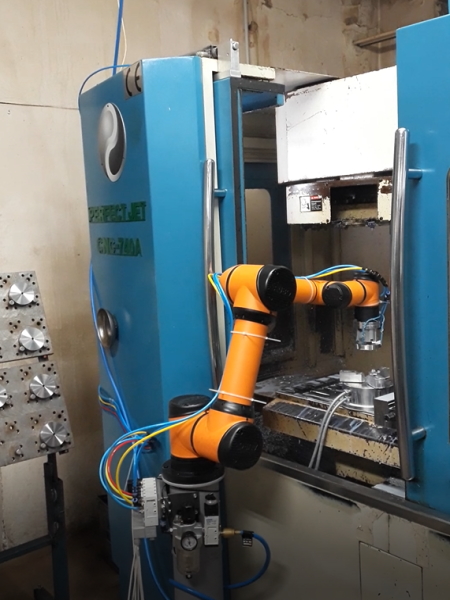 Technical Parameters
| | |
| --- | --- |
| Robot | Collaborative robot AUBO i5 |
| End tool | Tailor-made end tool created by the customer |
| Method of feeding the semi-finished product to the inlet | Removing from prepared nut |
| Method of removing products at the outlet | Piling into a prepared nut |
| Workplace control method | AUBO control panel |